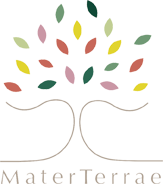 A masterpiece of ecological and solar architecture, our Vegetarian, Organic, Biodynamic and Vegan restaurant Mater Terrae encourages people to relax and abandon themselves to the widespread wellbeing which permeates every dish. Our healthy recipes are good both for you and the environment.

You saw the word "vegetarian" and you are not convinced…
Don't worry about it, we will not fill your plate with tofu or seaweed! We will instead delight your palate with natural seasonal products and unique recipes based on art, creativity and innovation!